Atelier
The Bathco Atelier is a space for creation and experimentation where a group of multidisciplinary artists develop ideas and intervene on washbasins individually, making each a work of art with a unique and one-of-a-kind nature.
A space for creation
Bathco Atelier, a unique initiative that for the first time links the world of art to the ceramics sector and bathroom décor. Imagine, additionally, how this space for artistic creation and experimentation is implemented in the
company. The artists come up with ideas, work on new designs, create, and experiment with the possibilities of painting and its fusion with other materials: iron and sand particles, crystals, etc.
Unquestionably, it is a collaboration project between eight artists who add their personal stamp, way of life, and understanding of art to each of the pieces.
Artistic process
Bathco recovered the facilities of its old ceramic decoration workshop to turn it into what is today known as its Atelier.
It's a space that breathes magic in every nook and cranny: the smell of paint, the heat of the kiln, the incessant swishing of paintbrushes on the sinuous forms of the washbasins, and the murmur of the artists constantly working out new ideas.
Each piece that emerges from the workshop is produced in Spain. Thanks to the talent, experience, and creativity of this group of professionals, the entire artistic process in carried out in-house.
The new white canvas is the ceramic surface, in the form of washbasins and wall tiles that recreate dreamlike scenarios for the bathroom. Each of the artists, applying his or her own
personal style gives free rein to creativity to bring your projects to life.
Since the birth of the first ideas, the process of sketching, applying paint, testing new materials; the process of firing and drying; everything is done at the company's facilities and is impregnated with the essence and genius of the individual artists.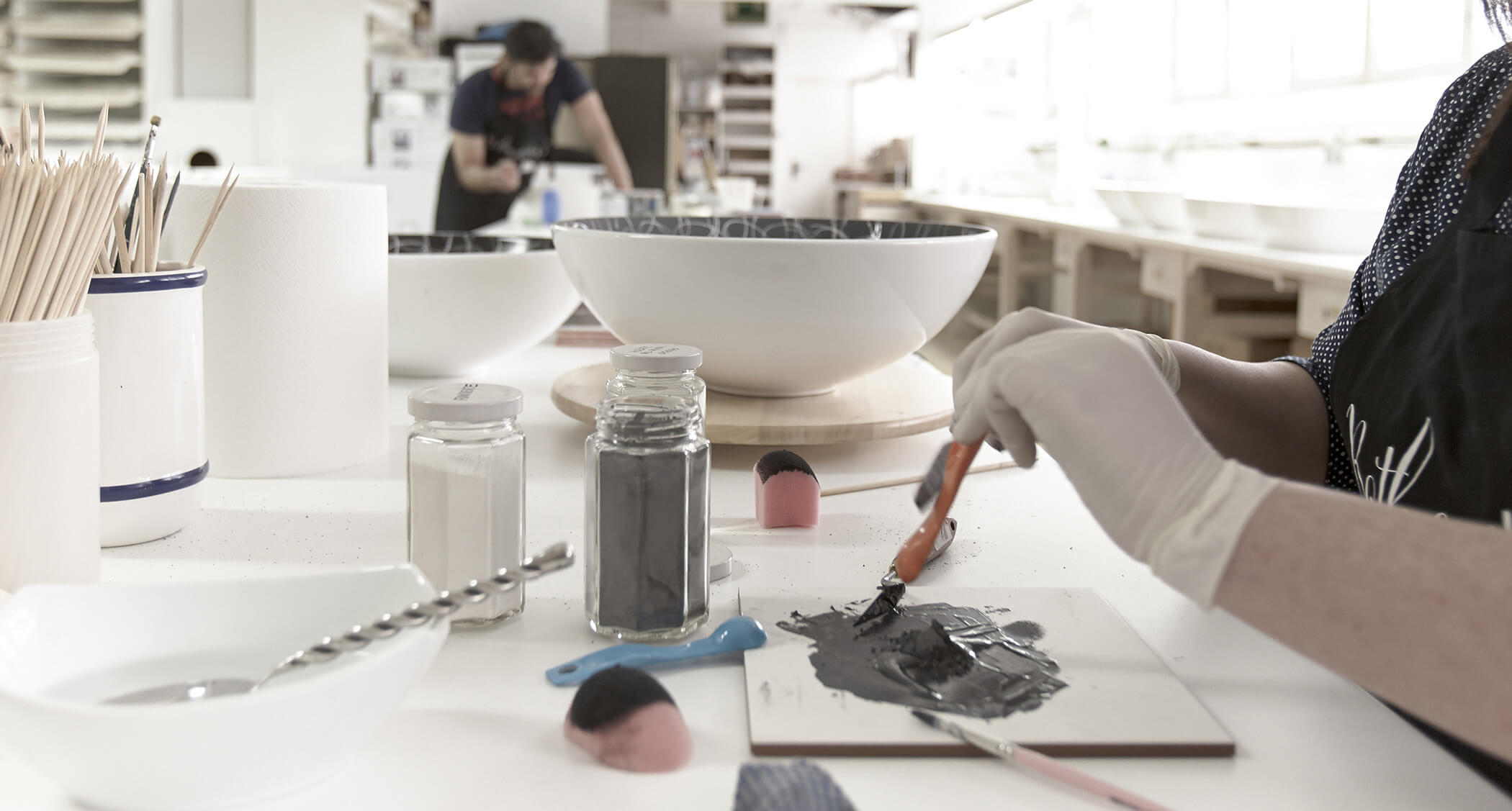 Custom proyects
At the Bathco Atelier, one-off projects are developed in which the artistic intervention extends beyond the washbasin to completely
flood the spaces through the development of ceramic murals. The architect or interior designer has the chance to work directly with the
Atelier artists to produce pieces fully attuned to the conceptual needs of each project.