Bathco Atelier is a hotbed of ideas that never stops to amaze. Each piece made here emerge from the hands of artists who continuously exploit their creativity.
On this occasion, we present two new models with digitally designed pattern to be printed on ceramic decals. These are applied manually on the New Lys natural porcelain washbasin with matte finish that confers subtlety to the bathroom decoration.
Adam and Eve (ref.: 00414) washbasin inspired by classical iconography as a fundamental pillar in the Art representation throughout history. The use of mythological or religious characters aids the artist to create all kinds of allegories that help to narrate stories, whatever their subject or chronology.
On this occasion, universal painting and sculpture iconic figures have been placed on the raw porcelain, together with other elements, to develop an oneiric illustration that alludes to the universe, fauna and fertility. However, it also turns out to be an artwork open to the viewer's interpretation.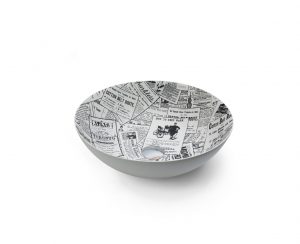 The artist plays with the always-perfect black and white combination and a remarkable graphic design, conforming a casual but balanced artwork.
Everything can be a source of inspiration, there are a lot of ways that can result suggestive to the creative eyes. On this occasion, creating Press washbasin (Ref.: 00418) the artists focused on the last century first decades advertising style, characterized by a defining aesthetic composed of images and typographies.
Through the design of a ceramic decal that illustrates news taken from old newspapers and magazines, the artist creates an amalgam of visual references, brands and products that refer to something past that today generate a smile from the viewer. The absence of colour balances the amount of information on the composition, letting go out the hue from the raw porcelain.
Newspaper is a modern but elegant washbasin, with an old memory and delicate air.